We understand Scripture to teach that the Christian is to have ample time to love his neighbor. For this reason we do not overload the week with programs and activities. While we consider the corporate worship of God to be central to the ministry of Christ's church, we do have other ministries to support your growth in our most precious faith and to aid your resting in Christ on the Lord's Day. Learn more by clicking on a tab that interests you.
Sunday School
Bible Studies
Youth Group
Fellowship Meals
Prayer
Men's Breakfast
Women's Breakfast
Oshkosh Reformed Church Plant
Each Lord's Day we have Sunday School for all ages, even adults. Our classes for both young and old relate faith to life and life to faith. On occasion our older youth meet with the adults for an intergeneration study. Sunday School starts at 9:00 and ends at 9:45. We do not have Sunday School during the month of July. There is nursery provided for newborn children to age 2.
We have a Sunday Evening Bible Study that meets roughly twice a month, usually at one of the homes of a family from our church. This study is led by Pastor Hartley, and usually covers a book of the Bible. See the church calendar or contact the church office to learn more about this study. Our women usually meet weekly during the school year for a Bible Study. See the church calendar for more information.
[/tab]
At Apple Valley Presbyterian Church our youth are instructed in the Westminster Confession of Faith as well as other topics intended to equip them for their next stages in life. In addition to this formal time of teaching, we also have occasional opportunities for fellowship and fun as well as service throughout the year. 

We are seeking to provide for them opportunities to become well grounded in the faith as well as to develop good bonds of fellowship with one another and the church as a whole.
Every six to eight weeks our congregation stays after the morning service for a fellowship meal. These are times where we enjoy each other's company as well as have informal discussions regarding how the Gospel is impacting our lives day by day and how we may better serve one another as brothers and sisters in Christ. Please feel welcome to join us for one of these meals whether or not you have brought any food to share, as there is always plenty.
Prayer is a common part of the life of Apple Valley Presbyterian Church. The Lord's Day worship is brimming with prayer, both pastoral and congregational, where we adore God, confess our sins and bring our petitions to Him.
A church-wide prayer meeting is held once a month after the morning worship service. Here we lift up praise and petitions usually in four categories: personal (the needs of those present), ecclesial (related to the Church), missional (evangelism efforts near and far), and civil (praying for those in authority over us, employers and in government).
We would be glad to serve you by providing instruction on prayer or praying with you personally. Feel free to contact Pastor Hartley or one of the other elders with a prayer concern.
Roughly once a month our men meet for breakfast at the Golden Corral , 1169 Westhill Blvd., in Appleton on a Saturday morning, at 7:30 until 9:00 to enjoy breakfast together and have a significant discussion of a relevant topic. The discussion is prepared and led by member Rick Laczny. 
See the calendar for dates, times and locations. In addition, you can receive an e-mail providing time, place and date as well as questions to prepare you for our next men's breakfast. Contact the church office to be added to this e-mail list. If you would benefit from financial assistance to attend this breakfast, please email Pastor Hartley and you will be discretely provided a no-cost voucher for our breakfast.
Our women meet just about every month for a breakfast together on a Saturday morning. They gather for discussion about a topic of significance for women. To find out more about this contact Elaine Laczny or LuAnn Lee.

If cost is a factor in attending, please email Pastor Hartley and discrete arrangements will be made to pay for your breakfast. See the calendar for more details regarding the time, place and date of the next women's breakfast.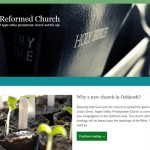 AVPC is actively seeking to plant an OPC congregation in the Oshkosh area. If you are interested in finding out more about this effort click here. Another way to find out more or even to lend your support toward this effort is to attend AVPC as we gather a core group to begin this new congregation or contact the church.