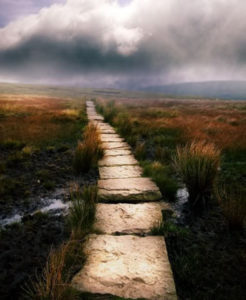 We will answer this question in three parts: (1) scripture, (2) lesson, (3) scripture again.
SCRIPTURE
LUKE 15:23-32  "And bring the fattened calf and kill it, and let us eat and celebrate. For this my son was dead, and is alive again; he was lost, and is found.' And they began to celebrate. "Now his older son was in the field, and as he came and drew near to the house, he heard music and dancing. And he called one of the servants and asked what these things meant. And he said to him, 'Your brother has come, and your father has killed the fattened calf, because he has received him back safe and sound.' But he was angry and refused to go in. His father came out and entreated him, but he answered his father, 'Look, these many years I have served you, and I never disobeyed your command, yet you never gave me a young goat, that I might celebrate with my friends. But when this son of yours came, who has devoured your property with prostitutes, you killed the fattened calf for him!' And he said to him, 'Son, you are always with me, and all that is mine is yours. It was fitting to celebrate and be glad, for this your brother was dead, and is alive; he was lost, and is found.'"
LESSON
Let's start the lesson by imagining someone joining a church after being away for many years. Let's call him Harry.
At the age of forty Harry has begun to grow tired of living a self-centered life with all its peculiar versions of self-glorification. But this is not yet the gospel.
Tired of pursuing these ambitions Harry comes into the church with eagerness to live a life aligned with all that is good, true, and beautiful. He is eager to serve God and love others. This is how Harry remembered the lives of those in the church of his youth. But this is not yet the gospel.
Not too long after coming into the church Harry was making significant gains in good deeds - serving others sacrificially; gains in sound doctrine - defending truth valiantly; gains in Christian ethics - abandoning bad habits courageously. But this is not yet the gospel.
You see there was a strange and surprising fact about Harry: along the way into church he completely missed Jesus Christ. He did not come into the church because he was coming to Christ through faith to be justified before God as a sinner.
Sure, Harry can outwardly celebrate the incarnation at Christmas time and talk the doctrine of the Trinity with some coherence. He did not completely miss all the doctrinal expressions of Christianity. Harry missed Jesus savingly because Harry found a way to avoid needing Jesus personally. He found a way around Jesus by outwardly giving expression to Christian works, Christian-speak and Christian ethics. Harry had not come as a wretched sinner needing the atoning blood of Christ. He had not come as a man void of all confidence in himself filled with confidence in Christ's own mediation.
In retrospect Harry sees a shocking truth: he didn't enter Christ's church because he wanted Jesus; he entered because he wanted a better Harry, a more fulfilled self, a self that would be admired by the kind of people Harry always admired – nice, Midwestern, hard-working Christian people, the people who filled his childhood.
In the process of entering and becoming a church member Harry found a way to avoid Jesus – a way unnoticeable to himself and unnoticeable to others at church.
What is this deceptive way? It is described in Luke 15:11-32.
In the parable of the prodigal son, Jesus introduces two brothers: a younger reckless brother and an older brother with admirable character. The younger brother abandoned his father farm, squandered his inheritance, and ended up living alone next to a pig sty. He rebelled by being very bad. The older brother, however, never left home. He appeared to obey all the rules. He lived a life of admirable integrity. But he rebelled too. He rebelled by being very good. He was like Harry.
The two brothers represent the two most common ways people try to make their lives and their world right. Pastor Tim Keller uses two helpful categories in his study of this parable in the The Prodigal God. Some people follow the path of self-discovery, like the younger brother who threw off his father's authority. Others follow the path of moral conformity like the older brother who learned to skillfully submit outwardly to authority. But Jesus teaches that both can be ways of resenting and rejecting God.
The older brother believed his father should have regarded him more favorably because of his years of moral conformity. But the older brother can not see that moral conformity has done nothing to make him like his father. Nothing. He does not have the compassion of his father because he does not love his father. He does not even like the way his father is!
His moral conformity was for himself. He was serious doing right only to establish leverage to get his father's inheritance eventually. As a heartless moral conformist he is different than his younger brother, but no better. He too despised the father.
The rebellion of moral conformity is the hardest to see because we are in or near the church. Because we take morals seriously we are easily tempted to think our moral straightness and moral conformity is why God loves us. But this is a satanic lie of the highest order. God loves us for reasons that reside completely outside of us. God loves us in Christ. Through Christ's redeeming sacrifice on the cross, his love is just, complete and indestructible. Through Christ's redeeming sacrifice God's love is fierce, jealous and strong.
This brings us back to Harry.
Because Harry did not see himself as a naked and bloody newborn baby, hopelessly discarded in a field of dirt, he could not see Jesus as the Lover and Redeemer of his soul (read Ezekiel 16 for that stunning image). In retrospect, he discovered that Jesus had only been his Appraiser not his Savior. Harry had Jesus in his life only to appraise his good works and sound doctrine and Christian conformity as within the bounds, something admirable. Jesus was not in Harry's life as the Almighty God carrying Harry in loving arms out of death, covering Harry's sins at great cost, and cleansing Harry of filth with the truth and light of the holy Word.
But now, by God's grace and power, Harry has a new heart. He has discovered that he is naked and filthy in his own righteousness (see Isaiah 64:6). Naked and filthy because his own righteousness was always an excuse to avoid Jesus as the only God Jesus is to us: a humiliated and crucified God who redeems sinners by suffering on their behalf. To Harry's surprise and wonder Jesus even has grace for filthy righteous moral conformists!
Now Harry has a new problem. He will have to find better reasons for living the holy life God requires in his holy word, the Bible. Harry is trembling at the prospect of what life will look like without the high level of earnestness once necessary for his campaign of self-improving, self-admiration. What kind of husband will he be without the energizing motive of self-admiration? What kind of student of scripture will he be without the energizing motive of self-admiration? What kind of servant? What kind of neighbor? What kind of Christian? He needs to ask Jesus because he does not know how to be a man who is motivated by grace. But, by grace, he will learn and the holiness that will mark him will be real.
SCRIPTURE
ROMANS 10:1-10  Brothers, my heart's desire and prayer to God for them is that they may be saved. For I bear them witness that they have a zeal for God, but not according to knowledge. For, being ignorant of the righteousness of God, and seeking to establish their own, they did not submit to God's righteousness. For Christ is the end of the law for righteousness to everyone who believes. For Moses writes about the righteousness that is based on the law, that the person who does the commandments shall live by them. But the righteousness based on faith says, "Do not say in your heart, 'Who will ascend into heaven?'" (that is, to bring Christ down) "or 'Who will descend into the abyss?'" (that is, to bring Christ up from the dead). But what does it say? "The word is near you, in your mouth and in your heart" (that is, the word of faith that we proclaim); because, if you confess with your mouth that Jesus is Lord and believe in your heart that God raised him from the dead, you will be saved. For with the heart one believes and is justified, and with the mouth one confesses and is saved.
To hear more about the good news of God's salvation through Jesus Christ, click here.